Helping students succeed since 2002
English, as one of the 10 major languages in the world, opens many doors in life and can be your route to a successful future. Whether you are learning for your education and international purposes, your career or simply for an incredible life experience, we will make sure you reach your goals; so make a difference! Choose from our wide range of English language courses: General English, T.KIT English, IELTS, CELPIP, TOEFL, etc., and let our friendly and professional teachers guide you to what is different.
Choose your course.
Choose your future!
English for Conversation & Life
A mix of popular real-life, student-centred courses to improve your all-round fluency and confidence.
CORE English
Choose the intensity of your course for fluency and an amazing experience in 7 different levels with 21 parts.
English for Education & Exams
All you need to feel prepared for your exams, with the confidence to succeed.
IELTS Exam Preparation
Successfully take the IELTS test in a way that you surely won't experience anywhere else
TOEFL Exam Preparation
Your Way to a Successful Score on Your TOEFL Exam in no more than 3 months
IELTS Mock Exams & Dates
Experience fully simulated IELTS exams practice materials with authentic simulated scores and personalized feedback
"CROSSCUT®" Guarantee
We are sure that you will meet your English Language Goals CROSSCUT Education System and we will promise this!
With over 15 years of experience in providing first-class English programs, "CROSSCUT®" attracts students and professionals to experience high-quality English classes for all levels and purposes.
We are honoured when past and present students tell us how we have changed their lives. Come study at "CROSSCUT®" and give us the opportunity to change yours too.
Why Students Choose "CROSSCUT®"?
81% of new "CROSSCUT®" students have been recommended by old students.1
78% of our students hold bachelor to PhD degree1
63% of our IELTS2 students could successfully achieve 6.5 score among 955 user-experience group1
15 years of outstanding reputation in providing high quality English programs
Our unique, exclusive "CROSSCUT®" Education System3
Matchless and authentic English Programs
"CROSSCUT®"  Guarantee of Success
The highly-trusted IELTS preparation centre
Highly qualified teachers and dedicated staff
Maximum class size of 10 students (average size around 6)
New classes start every Monday
CROSSCUT® Education System
Technically speaking, there is a lot to be said about the kind of system we apply in CROSSCUT® Education System. The first and foremost important issue about CROSSCUT® is that it is exclusively designed for ESL learners in a short-run fashion. Researches show that the variety of English language books available in language teaching (those with the famous motto: one size fits all) can hardly meet language learners` needs particularly in the adulthood. This is no doubt attributable to a variety of different reasons such as learners` age and urgent needs, the length of learning, method of instruction and so many others. For instance, when learners reach an age in which speech patterns are fully developed in their mother tongue, they find it hard to learn a foreign language on the basis of ESL rules. Apart from the very short time spent in a language classroom, the methods of teaching are artificial and most of them are bookish and far from real life situations. Therefore, a unique system has been devised based on adult ESL learners` urgent language needs for an English-speaking country like Canada. Here are some CROSSCUT® key features:
CROSSCUT® English Course books:
Exclusive CROSSCUT® Method of Teaching course books that are used in class, tailored to all your needs and level of English
Looks at all key areas of language: reading, writing, listening, and speaking
Develops grammar, vocabulary, and pronunciation
Offers clear learning outcomes and objectives, using English in real-life contexts
Is student-based and Interactive
Is Most Suitable for an ESL Environment
Has a Short-term Timing
Is Well-organized and Fun-filled with loads of activities
Adapted to Language learners` Age and time shortage
Pays Attention to Individuality
Holds low-populated classes
Is Target-based and Adaptable to the student's aim
Avoids traditional Fail/Pass Fashion of Qualification
Aligned to CEFR (Common European Framework of Reference) levels
All in all, as you engage with the CROSSCUT®, as well as taking an active part in classroom discussions, you will work on your language skills in small groups, pairs or individually on tasks and projects. And as you learn correct English pronunciation, increase your vocabulary, work on your grammar and improve your sentence construction, you will find you become able to express yourself in an accurate and appropriate way.
CROSSCUT® English Course Levels and Timelines
By the help of the following chart and by counting the session and week numbers to your goal, you can guess how far you are from your expected success in our college.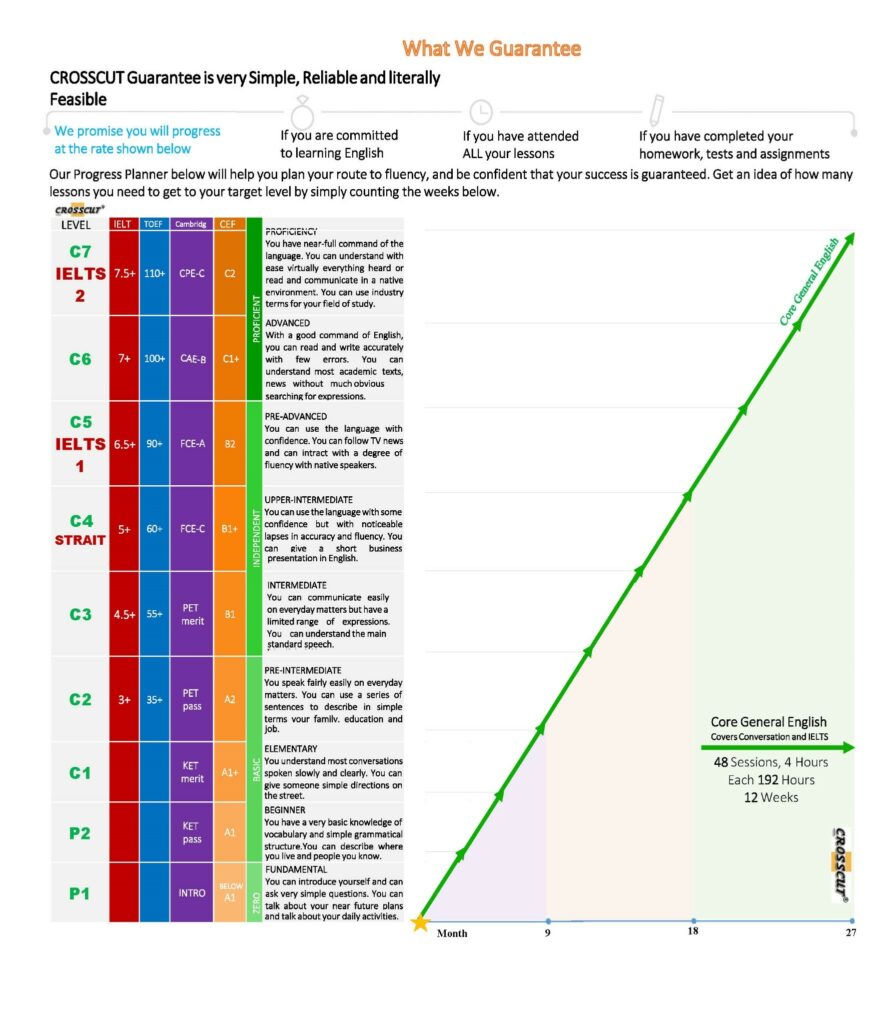 We promise you will get to your English language goals if you:
are committed to learning English;
have attended all your specified lessons;
have completed your homework, tests and assignments 85/100.
If you do all above and can't get your expected goal, we will provide you with all the additional lessons to reach your target level at no extra cost.
At every "CROSSCUT®" school, we are focused on improving your English.
We promise to offer all our students:
Our unique, exclusive "CROSSCUT®" English language teaching method
Matchless and authentic English Programs
The highly-trusted IELTS preparation centre
Highly qualified teachers and dedicated staff
Your commitment to us:
Do your homework comprehensively
Respect your teacher and cultural environment
Be punctual to all classes and activities
Speak English at least 1 hour a day outside the school
No mobile phones in class.
There are seven major levels of general English courses for adults, ensuring you receive the best learning experience for your ability. When you begin your course at "CROSSCUT®", you will take a test to determine which level to start on.
Core English
(An Intensive English Program Combining General English, Academic Skills and Business based on Exclusive CROSSCUT®+ Method of Teaching)
This program will give you a practical understanding of the English language and take you all the way to accuracy and fluency. See your confidence improve as we train you in all four communication skills: speaking, listening, reading and writing, as well as grammar, vocabulary and pronunciation. Whether for business, academic or everyday needs, this is the perfect match to help you improve your English. It takes 9 levels, 27 parts (27 months) from fundamental to upper-advanced.
COURSE INFO
Click the tabs below to find out information about this program
IELTS® Exam Preparation
Reach your full potential with this powerful training in pure IELTS exam technique based on a time-tested curriculum. Exclusive to "CROSSCUT®", the CROSSCUT® system is targeted at helping get your best possible IELTS exam results.
An IELTS qualification is required by most European, Canadian and Australian universities, and in some cases, American academic institutions. IELTS is often required by professional bodies and is needed for immigration for Canada and Australia.
IELTS exam preparation courses in "CROSSCUT®" focus on three key areas to help you achieve a high score quickly and easily: unique exam strategies, effective and exclusive IELTS pamphlets and practice tests, and perfectly trained and experienced instructors.
Finally, if you want to achieve the same successful outcomes as our graduate students, or if you have taken IELTS test and could not achieve your required scores, surely this program can help.
COURSE INFO
Click the tabs below to find out information about this program
IELTS Mock Exams
Last month before the test, in fact, is the most influential and decisive days in obtaining the desired score. Wrapping and trying to correct the weaknesses will be very crucial. Over 5 years, we have been holding this test twice a month. The tests are quite similar to the actual tests. After the IELTS simulated test, debugging and strategy teaching session will be held. 91% participating students' satisfaction in this period, indicates the usefulness of the course in the final days before the test.
Finally, if you want to achieve the same successful outcomes as our graduate students, or if you have taken IELTS test and could not achieve your required scores, surely this program can help.
COURSE INFO
Click the tabs below to find out information about this program
1. based on an internal survey on 4,500 samples
2. The international English language testing system (IELTS) is the world's most popular English language proficiency test for higher education and global migration which its scores are out of
3. a Fast Progressive, Effective, Short-run method of learning English